---
Members of 119th Street Artists are cordially invited to exhibit in Cornerstone Gallery's Triad Show. We need submissions very soon. Last year's Triad show was well-attended, and full of lively, engaging art. We look forward to another successful event with our many accomplished artists. Traditionally every effort is made to accept at least one artwork from each member. This year's Triad Show includes 119th Street Artists, South Lake Artists Co-op and 18 Artists.
If you are not a current member of 119th Street Artists, you are welcome to join by sending a $15 check and this form or come to our planning meeting on Tuesday, July 14 at 6:30 and sign up then.
All subjects and mediums are accepted, provided that they are ''family friendly'' out of respect to the host for our venue at Centier Bank (so no nudes or gore.) The maximum of artworks you can submit is 2.
SUBMISSIONS ARE DUE: Tuesday, July 21st or earlier if possible.
NOTIFICATION: You'll be notified regarding acceptance of your artwork by email around July 24th. At least one artwork is usually accepted, more artworks may be accepted depending on the number of applications.
RECEPTION: Friday Aug. 21, 6:30 -9 PM
TAKE DOWN/ PICK UP: Sept 26, 9 AM -5 PM
HOW TO APPLY: EMAIL OR IN PERSON AT MEETING 7/14, 6:30
APPLY BY EMAIL BY JULY 21ST

| | |
| --- | --- |
| - | Artists may enter up to 2 images in jpeg format. |
| - | Send to our curator, Leon Sarantos at |
| - | Include "TRIAD SHOW" in the subject line. |
| - | PLEASE INCLUDE, in the text of your email Your name, contact information and image list. |
| - | IMAGE LIST: Title, media, size and price for each artwork. |
| - | Your contact information (email address and home or cell phone) |
| - | IMAGES: Number your images with the initial of your first name and last name and the name of the artwork (i.e.: 1SJones.Summerjpg). Send images in jpeg format, preferably at a maximum width of 1000 pixels. |
OR

APPLY IN PERSON AT MEETING 7/14, 6:30
Attend our next meeting on Tuesday, July 17 at 6:30. Bring your art and submission forms and help us to plan this event. (Bring exhibition forms listed in the art drop off section below. Forms will be revised to reflect which artworks are accepted.)
ARTWORK DROP OFF:

Drop Off: Monday, July 27 - Friday, July 31 Aug 1, 9 AM - 5 PM and Saturday, Aug 1: 9 AM to 11:30 AM. (Building closes at noon on Saturday.)
DELIVER ACCEPTED WORK TO:
119th Street Artists' CornerStone Gallery, 1500 - 119th Street, Whiting, IN 46394.
NEXT MEETING:
Tuesday, July 14, 6:30-7:30 PM in our upstairs studio, enter via the New York Avenue entrance. All are welcome!
About CornerStone Art Gallery: CornerStone Art is located in the Centier Bank Building at 1500 119th Street in the Historic Downtown District of Whiting, Indiana. The gallery is in Northwest Indiana, about a 30 minute drive from Chicago. Enter the gallery via the New York Avenue entrance on the west side of the building. Gallery hours are: 9 to 5 weekdays and 9 to noon Saturday. The center is organized by the 119th Street Artists, a non-profit group that seeks to bring an appreciation of the fine arts to people in all walks of life and to provide support and encouragement to Midwestern artists.
---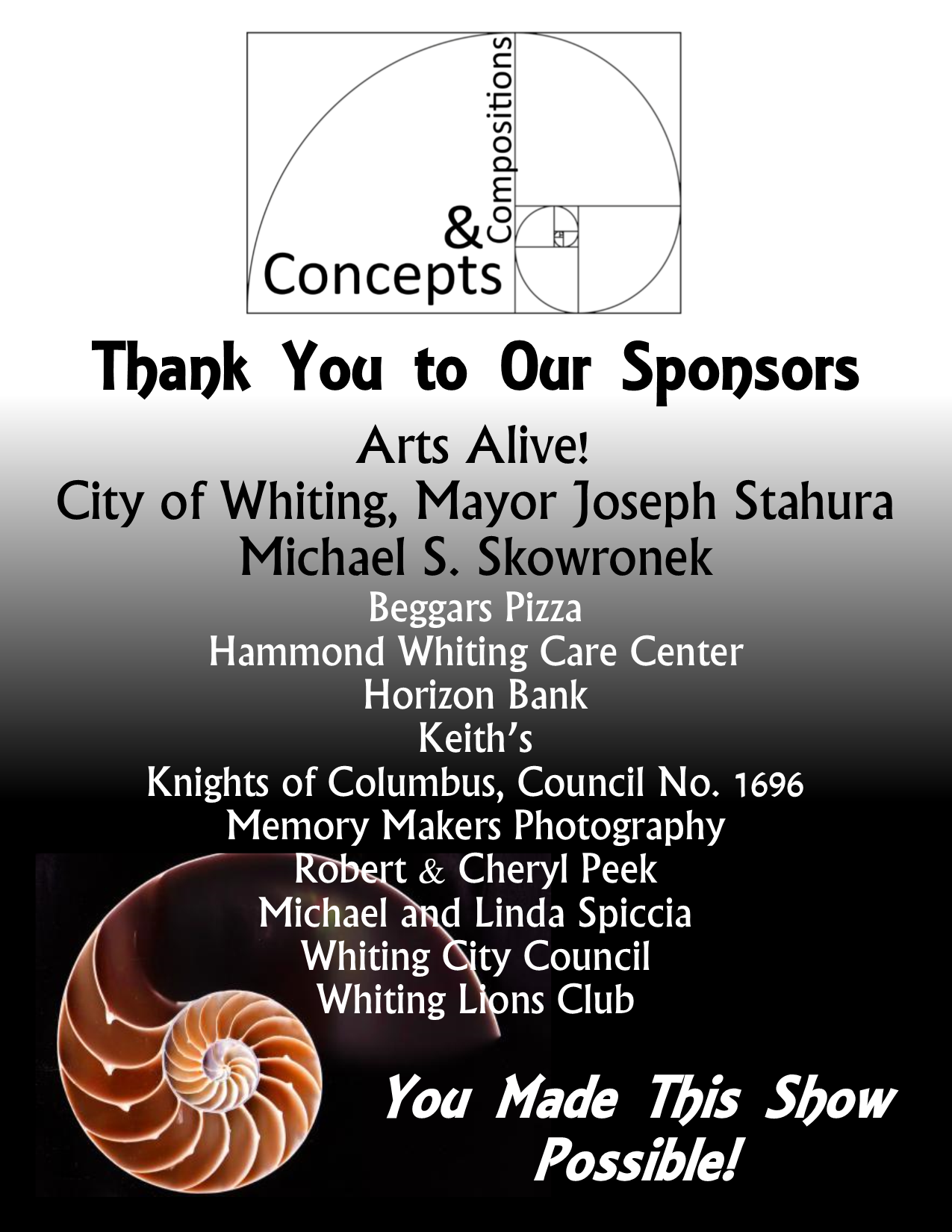 Thank you to all the participants in Concepts and Compositions, a national juried art show for June/July 2015! Nine cash prizes were awarded to deserving artists. Over twenty artists were accepted and fifty-two pieces of work were judged by our juror, Ann Fritz, the Gallery Director of IUN.
The winners were:
BEST IN SHOW: "I Am Afraid" by Randy Buvala
BEST PHOTOGRAPH: "Abandoned Love" by Michael Malik
BEST PAINTING: "The Attic" by Samantha Perillo
BEST DRAWING: "She Asked" by Samantha Perillo
BEST MIXED MEDIA: "1.26.15.2" by Dawn Diamantopoulos
HONORABLE MENTIONS
"Bringing Corruption" by Leslie Lambert
"Sowing Dawn" by Dorothy Graden
"Eve" by Piro Ramirez
"The Golden Hour" by Carol Estes
---
Thank you to all of our artists and guests for participating in this show! Every participating artist sold art, and that is what we LOVE to see!
---
Thank you to everyone who participated in the Under 18 Art Show! We are proud to have displayed the art of over 100 participants representing more than five different schools. We have been sponsoring this children's show for over 10 years, and we take pride not only in giving young artists a chance to display their work in a professional setting, but also the opportunity for friends and family to celebrate the works of these students.
As a group, 119th Street Artists was created to showcase local artistic talent from all age groups. With your help, we enjoy continued success.
---
---
Thank You to Our Hyde Park Connection Friends
For Sharing Your Art With Us!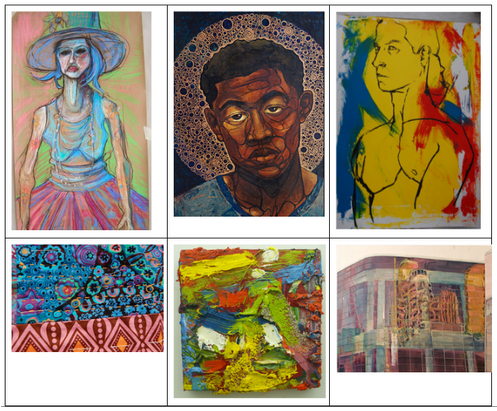 Having painted, printed, and pressed clay together for a number of years, the Studio 4 artists are inspired by their classes and camaraderie to present their first group show in a salon style exhibit. The art will include carefully rendered portraits in oil by Gloria Carrig, dynamic screenprints by Lisa Jenschke, intricate ceramics on a micro scale by writer/artist Bo Brown, and large-scale artwork by Ted Micheletti. Studio 4 unites an interesting group of artists from a variety of disciplines: Architect and artist Leon Sarantos, social activist Carolyn Pereira, and blogger and fabric artist Heather LaRiviere. Several Studio 4 artists have long roots in the Chicago art scene: Donna Terry was a high school student when she attended the first Hairy Who exhibit at the Art Center in the 1960s, while Jean Hester's brother was one of the founding members of AfriCOBRA. The show also includes work by teaching artist Randall Miller, who trained at the San Francisco Art Institute.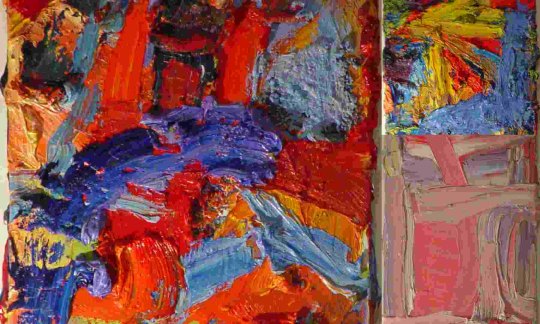 Art by renowned Chicago artist Darrell Roberts will be featured as a companion solo show. Roberts has served as mentor and teacher to many of the Studio 4 artists. His thickly textured, painted surfaces are inspired by the metropolis: the landscape, architecture, and construction of Chicago. Roberts has displayed his art extensively in both national and international exhibits. His recent residency and exhibitions in India provide him with a new metropolis and palette to inspire his work. He attended the School of The Art Institute of Chicago, and received a BFA and a Masters in Fine Art. Roberts is represented by McCormick Gallery in downtown Chicago. As Gallery Director, Thomas McCormick, says, "This guy just gets me with his lush brushwork — real cake-frosting surfaces in a size you can hold in the palm of your hands."
David Anthony Geary is a talented, teaching artist at Hyde Park Art Center. His art is also in a companion solo show. His lively and colorful art leaps off the canvas to engage the viewer. He has guided and influenced many Studio 4 artists. The community of Evanston and the greater Chicagoland area serve as a great source of inspiration to add to his palette. His work includes painting, printmaking, and photography. His visual training took place in New Orleans, LA at Xavier University.
---
Membership Information
Click Here For Details and Info
For A Copy of the CornerStone Art Center
Gallery Agreement Click Here
and
Inventory Sheet Click Here
---
An article concerning why artist should not try to explain their art "Explanations Are The Traitor Of Art" can be read and/or downloaded by
Clicking Here
.
---
An article concerning the future of art is of interest to all "Why Western Art Is Unique" can be read and/or downloaded by Clicking Here.
---
The image(s) on this page are for your viewing pleasure on your computer only. All images on this site are copyright protected and may not be used for any purpose without the written consent of the artist. If you would like to purchase any of the artwork or use an image for commercial purposes, whether for print or on the web, please contact 119th Street Artists with your request.
---
Thanks for stopping by to visit our site. The members of 119th Street Artists hope you enjoy your visit.
If you have any questions or would like more information please contact us.