Paper Jewelry Class Now Available!
---
Call for Art from Young Artists!
119th Street Artists of Whiting is again sponsoring an exhibit for artists under the age of 18. We have been sponsoring this children's show for over 10 years, and we take pride not only in giving young artists a chance to display their work in a professional setting, but also the opportunity for friends and family to celebrate the works of these students.
We are hoping for another enthusiastic response to our request for artwork this year. This event is simply a chance for young artists to show their work in a professional setting and experience a real opening reception; this will not be a juried show and is free. All artists will receive a certificate acknowledging their participation in the Under 18 show.
Note that all pieces shall be brought to the Gallery (located in Centier Bank at 1500 - 119th Street) the week of January 26th and received no later than Saturday, January 31st at 10:00 a.m. Weekdays, the bank is open from 9 to 5 M-F. If the Gallery is not staffed when you drop off work, please place the art in the office and sign in on the clipboard hanging outside the door. The opening reception will be held Saturday, February 7th from 9 a.m. to 12 noon. All art should be picked up from the Gallery within two weeks after the show that ends on February 28th. We are not responsible for artwork left in the Gallery after March 15th.
We hope to have another great show this year. If you are a teacher submitting numerous pieces from various students in your classes, please make a list including each student's name, title of piece, medium, age and school. This makes it easier for us to label each piece for the show. Due to space limitations, we also have to ask that the number of pieces submitted be limited to one work per artist. Pre-K classes should limit their pieces submitted to one per artist. This will help us put together a show that is not too crowded to enjoy, and properly exhibit some very excellent work by young artists.
As a group, 119th Street Artists was created to showcase local artistic talent from all age groups. With your help, we will enjoy continued success.
---
---
Thank You to Our Hyde Park Connection Friends
For Sharing Your Art With Us!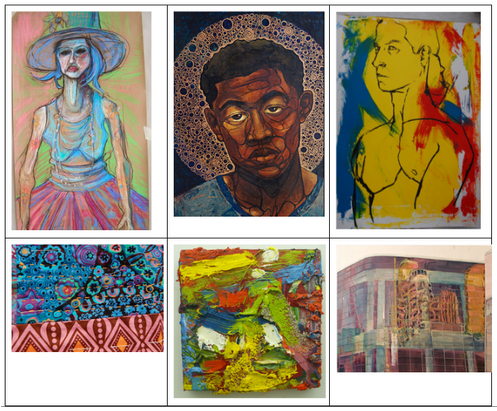 Having painted, printed, and pressed clay together for a number of years, the Studio 4 artists are inspired by their classes and camaraderie to present their first group show in a salon style exhibit. The art will include carefully rendered portraits in oil by Gloria Carrig, dynamic screenprints by Lisa Jenschke, intricate ceramics on a micro scale by writer/artist Bo Brown, and large-scale artwork by Ted Micheletti. Studio 4 unites an interesting group of artists from a variety of disciplines: Architect and artist Leon Sarantos, social activist Carolyn Pereira, and blogger and fabric artist Heather LaRiviere. Several Studio 4 artists have long roots in the Chicago art scene: Donna Terry was a high school student when she attended the first Hairy Who exhibit at the Art Center in the 1960s, while Jean Hester's brother was one of the founding members of AfriCOBRA. The show also includes work by teaching artist Randall Miller, who trained at the San Francisco Art Institute.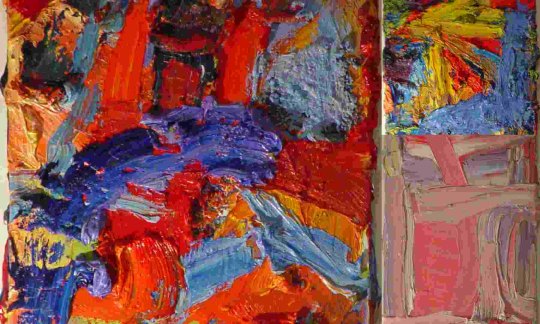 Art by renowned Chicago artist Darrell Roberts will be featured as a companion solo show. Roberts has served as mentor and teacher to many of the Studio 4 artists. His thickly textured, painted surfaces are inspired by the metropolis: the landscape, architecture, and construction of Chicago. Roberts has displayed his art extensively in both national and international exhibits. His recent residency and exhibitions in India provide him with a new metropolis and palette to inspire his work. He attended the School of The Art Institute of Chicago, and received a BFA and a Masters in Fine Art. Roberts is represented by McCormick Gallery in downtown Chicago. As Gallery Director, Thomas McCormick, says, "This guy just gets me with his lush brushwork — real cake-frosting surfaces in a size you can hold in the palm of your hands."
David Anthony Geary is a talented, teaching artist at Hyde Park Art Center. His art is also in a companion solo show. His lively and colorful art leaps off the canvas to engage the viewer. He has guided and influenced many Studio 4 artists. The community of Evanston and the greater Chicagoland area serve as a great source of inspiration to add to his palette. His work includes painting, printmaking, and photography. His visual training took place in New Orleans, LA at Xavier University.
---
Membership Information
Click Here For Details and Info
For A Copy of the CornerStone Art Center
Gallery Agreement Click Here
and
Inventory Sheet Click Here
---
An article concerning why artist should not try to explain their art "Explanations Are The Traitor Of Art" can be read and/or downloaded by
Clicking Here
.
---
An article concerning the future of art is of interest to all "Why Western Art Is Unique" can be read and/or downloaded by Clicking Here.
---
The image(s) on this page are for your viewing pleasure on your computer only. All images on this site are copyright protected and may not be used for any purpose without the written consent of the artist. If you would like to purchase any of the artwork or use an image for commercial purposes, whether for print or on the web, please contact 119th Street Artists with your request.
---
Thanks for stopping by to visit our site. The members of 119th Street Artists hope you enjoy your visit.
If you have any questions or would like more information please contact us.